Earth Day Yoga on the Mountain and Meditation
Yoga on the Mountain, 10-11:15am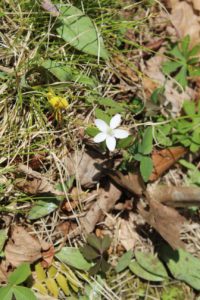 Come enjoy the view while relaxing your mind and body. All levels of experience are welcome. Please bring your own yoga mat and water. Walk-ins are welcome. However, registration is suggested so that we may contact you in the event a class is cancelled. To register, please call Lynn at 973-702-0488. A minimum donation of $5.00 per class is recommended. Yoga on the Mountain is sponsored by the Friends of High Point State Park. All proceeds go to support Yoga on the Mountain and other Friends of High Point State Park programs.
Earth Day Meditation, 11:30am-noon
Gently restore your body and mind while connecting with nature on Earth Day. Some time will be spent outside doing a short walking meditation, if the weather cooperates. It will also include guided breathing/visualization, and sound meditation. The meditation will be held inside, if there is bad weather. All levels are welcome. A $2.00 donation is appreciated and goes to  support the Friends of High Point State Park programs. Leave feeling energized and rejuvenated for the rest of your day!