Friends of High Point State Park is a not-for-profit organization that fosters and supports the historical, scientific, educational, interpretive, recreational, and natural resource management activities in the Park. Our support takes the form of funds, materials, and voluntary services for which no government funds or resources are readily available. Your membership dollars and donations provide funds for public programs.
You may now purchase memberships and make donations via PayPal using the adjacent form. You don't need a PayPal account, just a credit card.
Membership
Membership is open to individuals, families, benefactors, and businesses who are interested in and who support our objectives.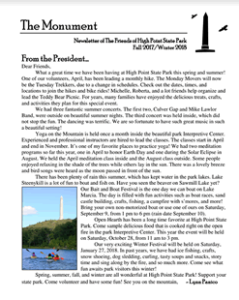 Membership entitles you to
Invite to members-only luncheon/event
2 annual newsletters
Discount on the Friends' merchandise
Voting privileges at the meetings
Benefit from a tax-deductible donation that supports your park
Join the Friends of High Point State Park online or click here to download a printable PDF of the membership form.
Donations
Friends of High Point State Park is an independent, non-profit 501(c)(3) tax-exempt organization. Donations to the Friends are welcome and are tax-deductible.
You may use the adjacent form to make a donation online. Choose "One time Donation" and fill in your donation amount in the box at the top of the form.
If you prefer to mail in a donation, please make checks payable to Friends of High Point State Park, and mail to PO Box 817, Wantage, NJ 07461.
Sponsors
The Friends of High Point State Park would like to thank our Business Sponsors for their generous support.
2017 Business Sponsors
Hubbard Hill Farm
811 Greenville Road, Sussex, NJ 07461
Thank you to Hubbard Hill Farm for supporting the Friends of High Point State Park as a small business sponsor!
We are seeking sponsors for 2017 — please contact us today!
Volunteer Opportunities
The Friends of High Point State Park have many opportunities for people interested in volunteering. Do you like to hike, bike, cook, or kayak? Maybe you like to do crafts, yoga, listen to music, or tend a campfire? Come to a meeting or an event and speak to one of our volunteers. Join us on the mountain and have some fun!
In Memoriam Donations
The Friends of High Point State Park are greatly honored to receive In Memoriam donations. We thank the families who remember their loved ones in this special manner.
In Memoriam
Elmer and Jen Denman
Honored by their grandson Stephen Denman, 2017