Interpretive Walk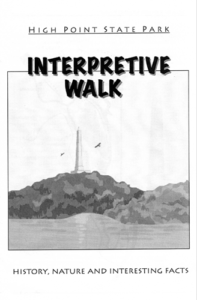 The Friends of High Point State Park are pleased to offer park visitors a new self-guided interpretive walk at High Point State Park. The walk takes you on a journey through the history, nature, and interesting facts of the park. You may download and print the guide at home or pick up a copy at the Interpretive Center. Have fun!
Children's Pamphlet
Click here to download a Kids Fun Pamphlet full of puzzles and activities for younger visitors to record their trip to the park.

Geocaching at High Point State Park
Spend a few hours or the entire day discovering the wonders and hidden treasures that High Point State Park has to offer. Come explore along Park Ridge Road and Sawmill Road. Search for official Friends of High Point State Park geocaches and many more.
In April 2013, the Communication Technology class at High Point Regional High School designed and hid five official geocaches for the Friends of High Point State Park:
Awesome Force
Surprise
Sticks and Stones
Camo Ammo
Splitting Wood
Download this PDF for directions to the Friends of High Point State Park official geocaches.
If you are planning on searching for geocaches in the winter, please note that both Ridge Road and Sawmill Road are closed to vehicle traffic during the winter season, but you are welcome to go exploring on foot. Parking is available at the Winter Parking Lot on Ridge Road.
CACHE-IN ~ TRASH-OUT!
Please help keep High Point State Park beautiful. Yellow trash bags are conveniently located throughout the park for visitors to use. Look for trash bag kiosks at the park office, Lake Marcia beach area, Monument concessions building, and outside many restrooms. All trash must be taken home for disposal. Thank you!
Learn more about geocaching and log your discoveries at www.geocaching.com. All five of our official geocaches are posted online. Avid geocache adventurers will be happy to know that there are many more geocaches located in High Point State Park and the surrounding communities.
What are you waiting for? Take a GPS guided adventure and discover High Point State Park.
HAPPY GEOCACHING!
Directions
Click here to get directions to High Point State Park from Google Maps.
Park Address: 1480 State Route 23, Sussex, NJ 07461.
Park GPS Coordinates: DMS 41° 18' 23.04" N 74° 40′ 14.78 " W.

Links